Game in Ebisen, high score "Field of Dreams"!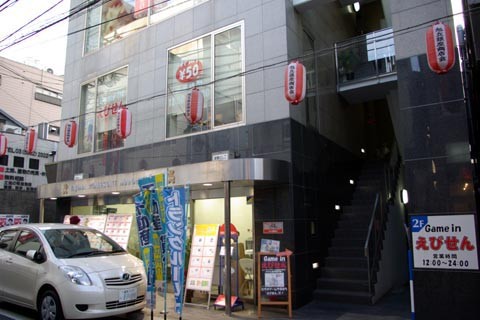 The 1980s and 1990s, when arcade games were at their peak. When the high scores recorded at game centers nationwide were published in game magazines, people who challenged the high scores began to appear. They were called " high scorers " (hereinafter referred to as " scorers "), and the scorers who recorded high scores were star-like.
" Game in Ebisen " (hereinafter referred to as "Ebisen") in Nerima-ku, Tokyo is a game center opened in 2006 by the owner, Hajime Ebihara, who is an active scorer. Is still a "sacred place for scorers" that I often go to.
The area around Ekoda Station on the Seibu Ikebukuro Line, where this "Ebisen" is located, used to be a densely populated arcade area with more than 10 arcades, but now only "Ebisen" is open. In this article, I would like to touch on " Score Attack Culture " that challenges high scores along with this "Ebisen" .
Score attack culture and high score aggregation
In order to understand the charm of "Ebisen", it is  necessary to know about the score attack culture .
The score attack culture is simply to compete for "who can get the top score in the game nationwide?" Perhaps it was around the spring of 1983 that a nationwide score summary was published in "Amusement Life", Japan's first general-purpose arcade game information magazine. This can be seen as the starting point of Japan's score attack culture.
The national high score information mentioned at the beginning was discontinued in 2015 due to the suspension of publication of magazines such as "Micon BASIC Magazine" and "Gamest" (later "Arcadia"), but in 2016, volunteers " Japan " High Score Association Japan (* 01)"(JHA) has resumed aggregation on the Internet.
Currently, the scorer applies to JHA to update the high score of each title, but at this time, it is necessary for the high score staff of the game center or the store staff to confirm the score. This is a mechanism to avoid false applications, so-called "false scores", but even if it is only confirmation, it will put some burden on the game center side. Above all, in stores where scorers do not come, there may be places where the concept of score confirmation does not even exist.
However, with "Ebisen", you don't have to worry about that. There is always a person in charge of high scores in the store, so you can feel free to check your score at any time. Because this is a game center for scorers by scorers .
Scorer backup system
"Ebisen" has a simple structure with 21 city housings lined up in a store that is less than 20 tsubo. The housing is arranged so that it does not interfere with traffic even if it is completely filled with players, and the lighting is adjusted to an angle and illuminance that does not reflect on the screen .
Mr. Ebihara himself maintains the levers, buttons, and continuous shooting device for the control panel attached to each housing. The game titles and chassis that regular scorers who come to the store are attacking at that time are decided to some extent, and it seems that they are adjusting according to individual tastes. That doesn't mean it's a dedicated scorer, and of course anyone can play it.
In addition, the recording environment of the game by the recorder is fully equipped, and if you wish, you can also write it to DVD. Furthermore, for scorers who want to play one game, there is a time rental system of 500 yen per hour and a monthly rental system of 30,000 yen for 31 days.
As an aside, Mr. Ebihara was bought the technique of housing maintenance that he had cultivated on a daily basis, and the shooting game event "Washoi! (* 02)"I am in charge of housing maintenance.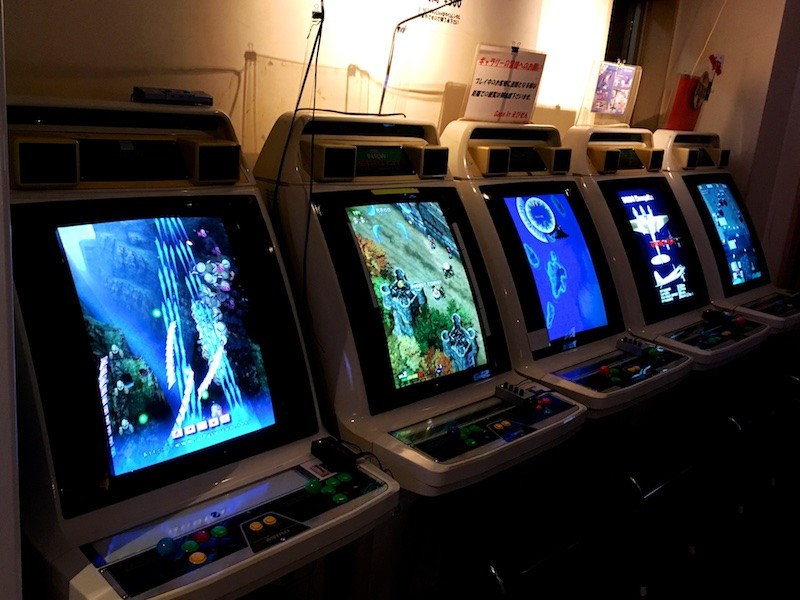 Until "Ebisen" is made
The owner, Ebihara, nicknamed "Shrimp Store Manager," is a scorer himself and was born in 1975 at the age of 42. Originally, I was a freelance contractor for the stage sound of a small theater, but when I was out of work and had a part-time job, I often said, "If I made my own arcade ..." at a drinking table with my fellow scorers. He said he was talking.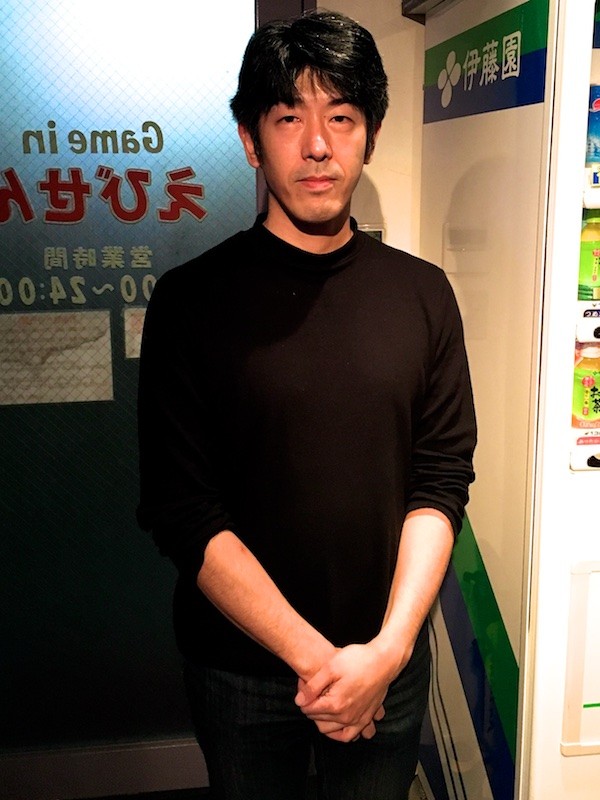 At first, I thought it was a story about Yota, but after talking with my friends several times, Mr. Ebihara began to seriously envision "my arcade" and began to estimate the specific costs. There were various hurdles such as securing housings and boards, searching for properties that could be opened, applying based on the Fudosan Law, etc., but with the cooperation and luck of the surroundings, we cleared them one after another.
As for the housing, we were able to secure timely and cheap output from the game center that was going out of business. Several fellow scorers gathered and manually carried this to the second floor, saving transportation costs. The game board was personally owned by Mr. Ebihara, but most of it was provided by fellow scorers.
Finding a property in my hometown of Ekoda was extremely difficult. Above all, existing buildings and tenants hate opening a game arcade in the same building. I don't think there is a good image of the gathering customer base and noise.
Eventually, the real estate agent I was consulting recommended to me on the second floor of the rebuilt building, and I decided to put it in a new property. Originally, there was another game center nearby, and there was a distance from schools and hospitals, so we were able to clear the locational problems stipulated by the Fuei Law.
In this way, "Ebisen" opened on May 3, 2006, at a price that is incomparably cheaper than that of a general company. The name of the store was decided to be "Game in Ebisen", in addition to the words of fellow scorers, "Because it is a game arcade of Ebi (nickname of Mr. Ebihara)", and the name "Miracle Inn Nakamurabashi" that Mr. Ebihara once used.
High score "Field of Dreams"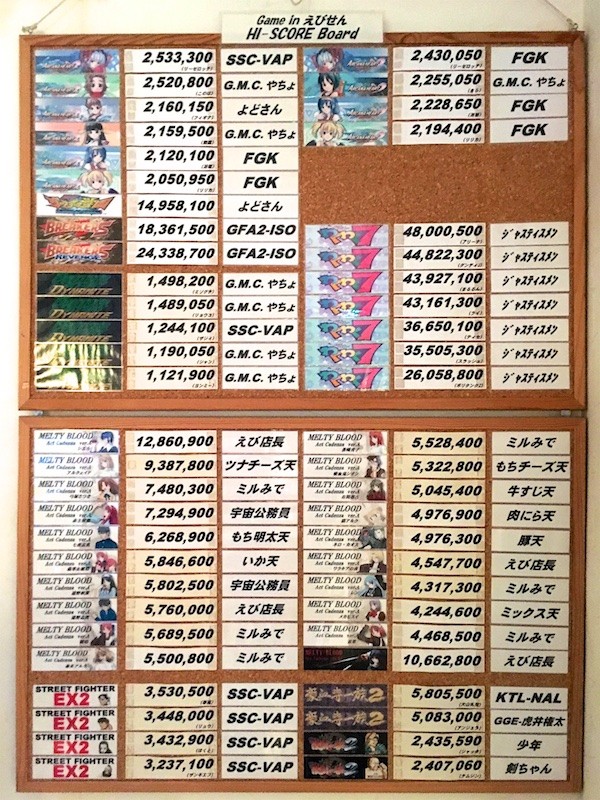 By creating a "Hako" for the scorer who has the above-mentioned backup system, the operation started based on the estimation that the store can be continued if 50 people who take the place of the scorer come.
However, the number of scorers who heard the rumors and gathered was close to 100 instead of 50, and it was a great success from the beginning because the store was opened during Golden Week . Around this time, Twitter had already started services in Japan, but in Japan, SNS is called mixi. Even among scorers, mixi may have spread information about the opening of "Ebisen".
Among the visitors, there is a legendary scorer who can rarely be seen except in the magazine's high score ranking, and many "all-one (nation's top high score)" records will come out from the beginning of the opening .
It must have been an arcade version of the movie " Field of Dreams " (1989 ) known for "If you build it, he will come ."
High score total, blank one year
In this way, "Ebisen" started as a game center where scorers gathered as planned. However, as you know, the situation surrounding arcades in this century is not very good. At the beginning of 2006, there were two other arcades around Ekoda Station, but with the closure of "Amusement Futaba" in 2015, only "Ebisen" remains.
At the beginning of the opening of "Ebisen", there were regular students, but now there are almost no students, probably because the generation has changed and games for smartphones have become widespread. Since the operating game is also a lineup for scorers, there are no prize machines, medal machines, sound games, and there is no fighting game with a fighting table, only a single machine. Also, modern games such as card game machines are not running. Occasionally, Mr. Ebihara feels sorry to see a general customer who came to the store for the first time without knowing it and went around the store and returned.
In addition, the record interruption due to the discontinuation of the high score tabulation magazine in 2015 (to be exact, the end of the periodical publication) was also a big event. Mr. Ebihara was worried that the scorer would stop the score attack during the high score tabulation blank period, but many scorers continued to play.
Even with "Ebisen," applications in the store were rarely interrupted during the blank year. From the opening to the present, only two months have not been requested for scores (high scores were not updated in the store), and some other 142 months have been updated.
The total number of high score applications in the store up to the day of the interview is about 1550 ( as of February 15, 2018). During this interview, the high score of a certain game was updated, and there was one act in which the interview was interrupted due to confirmation by Mr. Ebihara.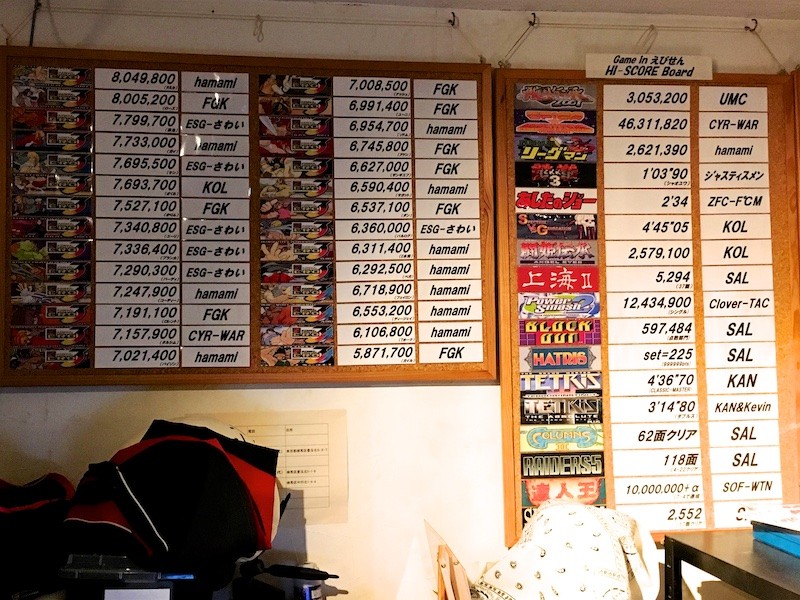 Jinx of "Ebisen", "Evil Eye" of Ebi store manager
There is one jinx in "Ebisen" where the score attack is performed almost every day. In the game case where the scorer is playing with no mistakes, galleries naturally gather to see the moment of high score update ... If Mr. Ebihara is mixed there, the score will be interrupted and updated. It doesn't reach. It seems that there were voices from multiple scorers that mistakes were induced by Mr. Ebihara's line of sight, commonly known as the "evil eye."
I've heard similar opinions several times, and maybe Mr. Ebihara is also concerned about "evil eye", the current game layout in the store is the housing that can be seen from the counter, which is Mr. Ebihara's home position. As much as possible, games that are not subject to score attack are included, and the target games are arranged so that they are blind spots from the counter.
It's just a jinx, but it can be said that the layout pays attention to the scorer's feelings.
Scorer's guy "Block Out"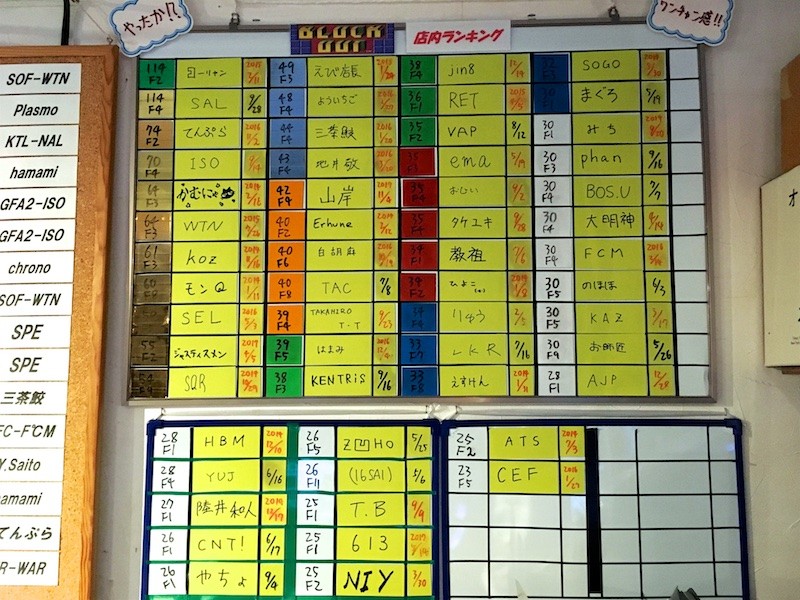 If you look at the store's official Twitter account, you 'll notice that they frequently broadcast " Blockout " (1989) play videos. "Ebisen" is arguably the most popular "blockout" store in Japan.
The scorer may change his mind in another game when he is tired of the game he is playing at that time. In "Ebisen", this is called " Oyatsu ". It means a game to change your mood between the staple food games that you really play.
"Blockout" was originally a title that was set up to be "Oyatsu", but due to its extremely high difficulty, scorers who are seriously challenging participate in the war one after another. Even though all the holders challenged, the game was over in a blink of an eye, so the number of regular customers who were more interested increased, and there was a time when multiple units were installed. "Ebisen" has five boards of the same work.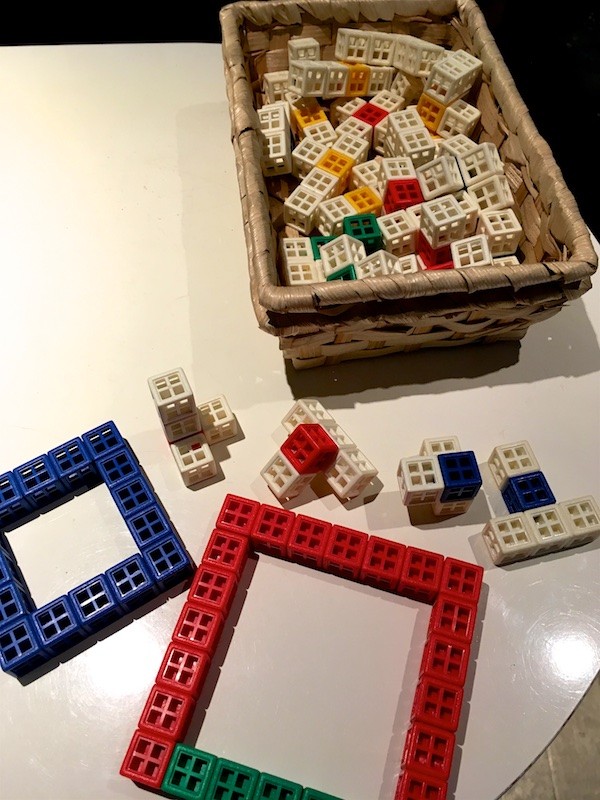 Future shrimp
After introducing "Donpachi Saidai Ojo" in 2012 and "NESiCAxLive", a content distribution system for arcade games in 2013, "Ebisen" has not purchased a new work. Therefore, most of the operations are supported by weekend scorer visits, and there is no soil for young players to come in.
Because of that, Mr. Ebihara said the other day, "JAEPO 2018 (* 03)"ExA-Arcadia" board unveiled at " * 04 "I have high expectations for the release of the new work. Unlike the current boards of major manufacturers, "exA-Arcadia" does not require a network connection and there is no revenue distribution (pay-as-you-go) for each credit, so even small game centers such as "Ebisen" can introduce new games without burden. Because it is said that it can be done.
"In the future, we would like to operate new games released with such a new system, increase the number of young players playing video games, and re-energize game centers nationwide," Ebihara said. "Ebisen" continues to protect the score attack culture with the aim of creating a store where old and new scorers can gather while attracting new scorers .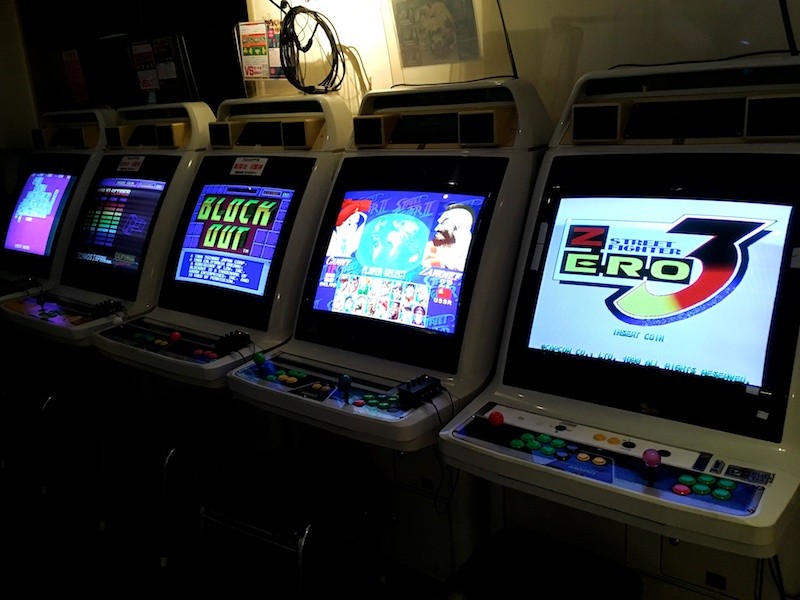 store information
Game in Ebisen
Address: 1-75-12 Asahigaoka, Nerima-ku, Tokyo Yajima Building 2F
Phone: 03-6909-4776
Business hours: 12: 00-24: 00
Holidays: None * Year-end and New Year ( 12/30 to 1/3 the following day) Only closed
Parking: None
Official Website
Official Twitter
Ⓒ Game Culture Conservation Institute (IGCC) *All photos in the article (Photographer/Writer: Yuichi Toyama)