Amusement field AXE where you can enjoy the latest games and retro games!

 

(* Closed on November 4, 2018)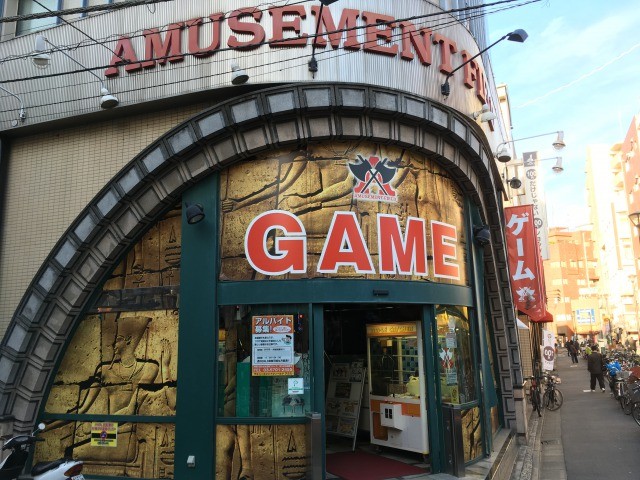 The Tokyu Toyoko Line, which was crowded with commuters on weekdays, became even more popular due to mutual access to the Minatomirai Line and the Fukutoshin Line. A 1-minute walk from the ticket gate of Toritsu Daigaku Station, there is a building decorated with archaeological murals with a characteristic entrance. This is " Amusement Field AX " (hereinafter referred to as "Ax"), which I have been visiting recently .
While game centers have been closed one after another since the beginning of the 21st century, there are few places along the Toyoko Line where you can play video games other than terminal stations such as Shibuya and Yokohama. Meanwhile, Ax is a valuable place where you can enjoy both the latest games and retro games in front of the station, and it is highly supported by middle-aged and older gamers. This time, I would like to talk about the charm of Ax.
* Unfortunately, the store was closed on Sunday, November 4, 2018.
A game center in front of the station visited by a wide range of age groups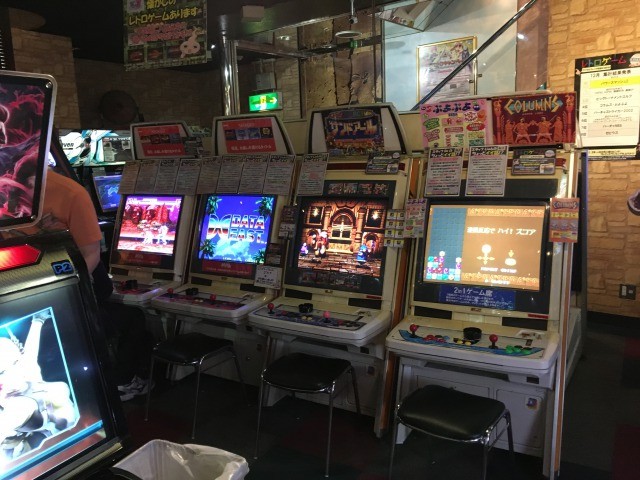 Ax opened on December 28, 2007 and has just celebrated its 10th anniversary.
The store is divided into two floors, the first floor and the first basement floor. The first floor is a floor for prize machines, medal machines, and sound games, and customers range from young people who play " Taiko no Tatsujin " to those in their 40s and 50s who enjoy medal games centered on single machines. ..
When you go down to the first basement floor, the presence of eight chassis of " Mobile Suit Gundam  Battlefield Bonds " (2006) is large, but there are also fighting game battlefields and online mahjong, which are in their 20s and 30s. Customers are the center.
About the origin of the store name "Ax" and the affiliated store "Bayon"
An inevitable part of introducing Ax is the affiliated store " Amusement Field BAYON " (hereinafter "Bayon"). Baiyon, located in Fujimino City, Saitama Prefecture, more than 30 km away from Ax, has a corner called the MA (Memories of the Arcade) area, where many retro games and pinball are placed on a large floor. If you are interested, please go there as well.
Compared to Bayon, which is a big store for the operating company and a main weapon like a sword, the relatively small new store is a sub-weapon like an ax, so the store name is "Ax" which means an ax. rice field.
Compared to Bayon, which is located in a commuter town and boasts a vast floor area, Ax, which is located near the city center, is firmly fixed as a result of pursuing how to entertain and earn profits for many players in a limited area. It is crowded like every day with customers. Although it is a small store, it has become like an "axe".
The manager of Nishimura, also known as "Staff Jun," is a returnee.
When you access Ax's BLOG, you can read various entries such as various game explanations by " Staff Jun " and " Staff Do ", the front and back of Ax management, and the state of the player.
In addition, the official Twitter is also actively disseminating information, and you can know daily events of Ax, news about running games, and retro game ranking bulletins.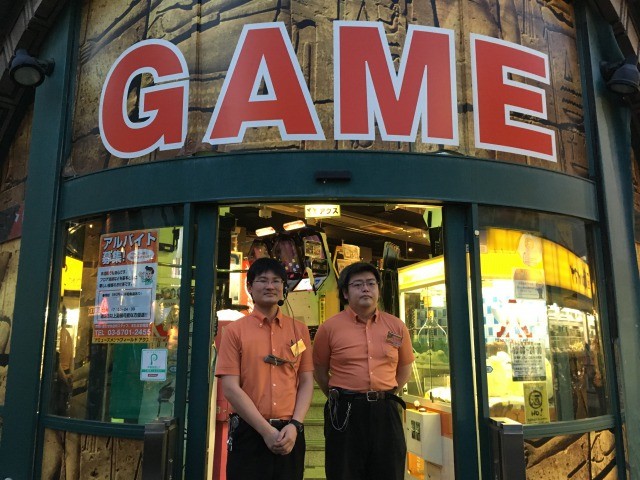 These are run mainly by Juntaro Nishimura, the manager of Ax, known as "Staff Jun". He spent about nine years between the ages of seven and sixteen, 1989-1998, the golden age of Japanese games in Europe, and had a depressed period when he couldn't play his favorite games as he wanted. In reaction to that, after returning to Japan, I started to go to the game center frequently, and one day I met the game center "Bayon" locally, and after many twists and turns, I got a job at the same store management company, then moved to the store, and in January 2014 Ax It is a 35-year-old returnee who became the store manager of.
Takanobu Ando, ​​also known as "Staff Do," is a 40-year-old who loves fighting games and professional baseball. Mr. Sanada of Ax ("Space Battleship Yamato") who always pays attention to the maintenance of the housing and makes use of the parts and repair skills that he had prepared "I wonder if this might happen" even if there is some trouble. It's like a mechanical engineer).
Inside the Ax store, there are many unique POPs written by both of them that describe how to play each game and tips on how to play each game, making it easy for beginners to play.
Retro game corner where game titles change depending on popularity
The retro game corner is on the first basement floor, with four city chassis lined up facing each other.
"From previous Art of Fighting 2 " (1992), " fighting tanto Earl sand Hey !! " (1998), "Virtua Tennis 2" (2001), such as retro game has been up and running few cars, Nishimura Since he became the store manager, he has gradually increased the number of units. In addition to arranging retro games, he decided on themes such as "puzzle," "fighting game," and "sports," and collected and operated titles in line with them.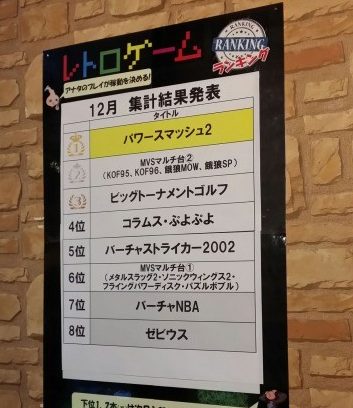 Then, in January 2017, the " Retro Game Ranking" will start, which will post the game titles for eight chassis in the order of income . The two titles with low income every month are harsh projects that will be replaced with another game the following month.
Ranking information was sent out from time to time on official Twitter, and it was often talked about in some retro gamer neighborhoods at the timing when rare games were running. Actually, I learned about Ax because I saw the topic of "Great Sorcer Striker" (2000), which was in operation before, on Twitter.
When switching games, the staff will discuss and decide while listening to the opinions of the players. If you have a game you want to run, ask the staff. Depending on the board inventory, etc., if you can expect some income, the game you requested may be running the next month.
Many retro games are running in Bayon mentioned above, but BEEP, a retro PC / game specialty store in Saitama Prefecture, is cooperating to provide the board. Unfortunately, just because it's running in Bayon doesn't mean it's working in Ax, so be careful.
Running a retro game is partly Nishimura's hobby, but it's not just that, it's also a business reason. Income (sales) is not high if the game is new and interesting, but it also changes greatly depending on the location of the store, customer base, weather and season.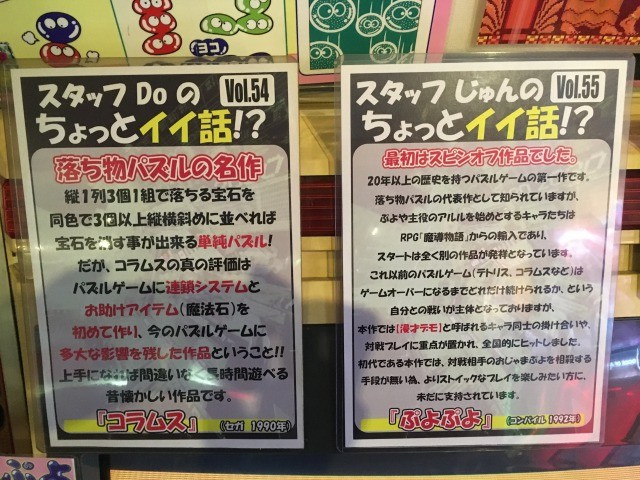 Even the latest games may be inferior to retro games in terms of income depending on the conditions.
Also, in recent years, network-based games earn only a part of the income from the store, while the income of retro games is almost entirely from the store. If the income is the same, the profit of the store is larger for the retro game without the operation management cost.
Community-based arcades near residential areas, from retro to new games
I have been to Ax many times, but players of all ages are always enjoying various games, not just retro games.
The neighborhood is a residential area with multiple schools, but it seems that many junior and senior high school students go by bicycle from a distance, because local students are prohibited by school regulations.
As events, official tournament qualifiers sponsored by manufacturers such as "Fighting God Festival", "Tenka Ichionge Festival", and "Battlefield Bond Tournament" are actively held, and store-specific tournaments are also frequently held. ..
Store tournaments are often decided at the request of the players of each game, and it seems that a community of local gamers through Ax has been formed and is in good shape for both the store and the players. Recently, the "Taiko no Tatsujin" tournament was held on December 27, 2017, and it seems that it was very exciting.
Although the scale of Axe is small, it is a community-based arcade that is made up of the staff, led by the store manager Nishimura, who has a deep love for games and players. Gamers along the Toyoko Line should get off the train, and if there is an opportunity for those far away, please visit Toritsudaigaku Station and enjoy the gameplay at Axe.
store information:
Amusement Field AXE
Address:
1-3-11 Nakane, Meguro-ku, Tokyo Phone: 03-5701-2455
Business hours: 10:00 to 24:00
Closed: None


Ⓒ Game Culture Conservation Institute (IGCC) *All photos in the article (Photographer: Yuichi Toyama)